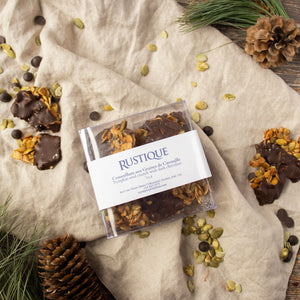 Our Chocolate Pumpkin Seed Crunch is made with clustered maple candied pumpkin seeds covered en dark chocolate, with a touch of fleur de sel. These are the perfect snack for a cozy night in or to have a touch of indulgence throughout the day. 

Allergens:
Contains:  Pumpkin seeds, chocolate.
May have been in contact with nuts, gluten.
Conservation:
Store our Chocolate Pumpkin Seed Crunch at room temperature, see the expiry date on the package. 
Weight: 175g.