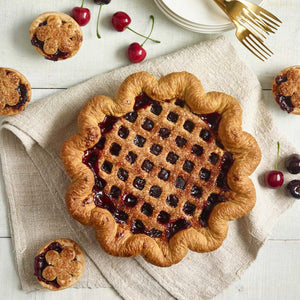 Your classic looking latticed cherry pie! Sour cherry pie with hints of lemon juice and zest, decorated with Turbinado sugar. Made with our classic full butter crust, hand carved by the expert hands of our bakers. 
Our 10" cherry pie serve up to 8 portions
Allergens:
Contains: dairy products, eggs, gluten.
May have been in contact with nuts.
Conservation:
Store at room temperature up to 3 days. We recommend buying your pie the day it will be eaten.