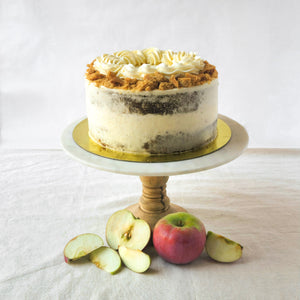 This Rosh Hashanah seasonal cake is available with limited quantities!
Available only between Thursday, September 14th and Sunday, September 17th.
Our two-layer moist Apple and Honey cake is filled with an apple compote center, iced with our famous cream cheese frosting and crunchy speculoos cookie crumbs.
Note: Cakes are baked to order and require 48 hours to produce. 
Icing Styles: 
Semi iced: Light icing around the exterior of the cake, slightly exposing the layers of cake (shown here)
If you would like to have your cake fully iced, please let us know in the notes of your order!
Recommended servings:
Our Apple and Honey cake is Medium sized, so about 8" by 4",  serves about 12 to 15 portions
All cake sizes and portion sizes are for reference, listed as diameter by height.
Allergens:
Contains: dairy products, eggs, gluten, apples, honey, cinnamon.
May have been in contact with nuts.
Conservation:
Store in the refrigerator up to 3 days. We recommend ordering your Apple and Honey cake for the day it will be eaten.