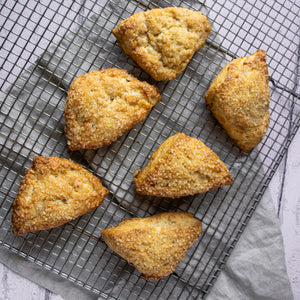 Our Apple Scones are made with our classic scone dough mixed with a touch of our apple filling, topped with crunchy Turbinado sugar. Perfect for any brunch or afternoon snack. 

Allergens:
Contains: dairy, eggs, gluten, cinnamon.
May have been in contact with nuts. 
Conservation:
Store at room temperature up to 3 days. We recommend buying your apple scones the day they will be eaten.