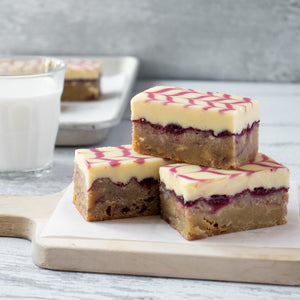 Local delivery available.
Our Raspberry Blondie has a white chocolate blondie base mixed with raspberries, with a generous white chocolate ganache and a drizzle of raspberry ganache. 
Regular size about 1.5" by 3" as shown on the product photo, mini size about 1.5" by 1.5".

Allergens:
Contains: dairy products, eggs, gluten.
May have been in contact with nuts.
Conservation:
Store at room temperature up to 3 days. We recommend buying your Raspberry Blondie bars the day it will be eaten.